Are you wondering what to do next after you or a loved one suffered a dog bite injury?
How common are dog bite injuries?
Are dog owners often held liable for injury expenses?
What type of compensation could I receive?
Do I have a case for a lawsuit?
Our personal injury attorneys are prepared to use our experience representing countless dog bite victims to earn the compensation you deserve.
Free Dog Bite Injury Evaluation
Our experienced personal injury lawyers are prepared to help you recover financial compensation for your injury-related damages.
— Michael Monheit, Esq.
Dog bites are very traumatizing experiences. The terrifying moments of the attack can inflict serious psychological damage, and many victims walk away from the attack with devastating physical injuries. The extent of these physical injuries depends both on the size of the dog and the stature and age of the victim. Children and the elderly are especially vulnerable to these attacks.
Physical injuries vary from relatively minor abrasions to deep tissue damage or even death. The emotional scars may manifest in a variety of ways, causing some victims to live in fear of dogs for the rest of their lives. It's crucial that we hold negligent dog owner's responsible for the damage inflicted in a violent attack.
Common Physical Injuries
Many dog bite victims require extensive medical care following the attack. These injuries are legally classified into severe and nonsevere categories.
All victims are permitted to recover medical expenses from the dog's owner, regardless of the extent of their injuries. Severely injured victims may pursue full compensation for damages, regardless of the dog's prior history or owner's negligence.
If you've recently been bitten and are wondering about the extent of your injuries, you should meet with both a trusted doctor and an experienced personal injury attorney. The doctor will evaluate your injuries, and the attorney can help you to plan for an injury claim.
FREE DOG BITE CONSULTATION
 Puncture Wounds
Most dog bites cause puncture wounds. The dog's teeth will pierce through the outer layer of skin and plunge into lower layers. Don't be fooled by the outside appearance of a puncture wound. Although they may look relatively minor, the majority of damage is often done to muscles and tissues below the surface.
Nerve Damage
Bites from especially powerful breeds can often cause serious and permanent nerve damage. What looks like a puncture wound initially may result in nerve damage below the surface. Victims who have been bitten on the face, neck, arms, or legs are especially vulnerable to nerve damage.
Infections
Dog's mouths are breeding grounds for bacteria and germs. When a bite punctures the skin, these various foreign contaminants have an easy route into your bloodstream. Symptoms of an infection include redness, swelling, pus, tenderness, and heat. Children, sick people, and the elderly are at a higher risk of infection from a dog bite.
Scarring And Disfigurement
Many victims are forced to be physically reminded of their traumatic experience for the rest of their lives. Severe bites often cause scarring once the wounds have healed. Many victims are injured so severely that they require reconstructive cosmetic surgery to repair the damage.
Death
Fatal dog attacks aren't exactly common. While approximately 4.5 million Americans are bitten by dogs every year, in 2016 there were "only" 14 reported fatalities. While this percentage may be tiny, it is still inexcusable that there are any dog bite fatalities at all. These attacks could have likely all been avoided if the owners had acted more responsibly.
There are two common factors in most fatalities:
A powerful breed such as a pit bull, rottweiler, or German shepherd
A vulnerable victim such as a child or elderly person
Mental & Emotional Damages
Imagine being a kid who loves dogs. You're playing with a dog who you assume is friendly, when suddenly the animal turns violent and attacks. Along with the physical pain that goes along with such an attack, you may never view dogs the same way again. Suddenly the animal you used to love becomes a dangerous presence that makes you fearful anytime you're around a dog in the future.
While children are the most sensitive to these emotional damages, anyone can suffer from PTSD-like symptoms in the wake of a dog attack. This is especially true for people with severe or life-threatening injuries. Former dog-lovers may never be able to own one again after a serious attack. Other victims might feel compelled to cross the street when they see a neighbor walking their dog.
While these emotional damages may not show from the outside, that doesn't make them any less real. Dog bite victims deserve relief for the nightmares, lifelong fear of dogs, or fear of even leaving the house that may follow them long after the physical injuries have healed.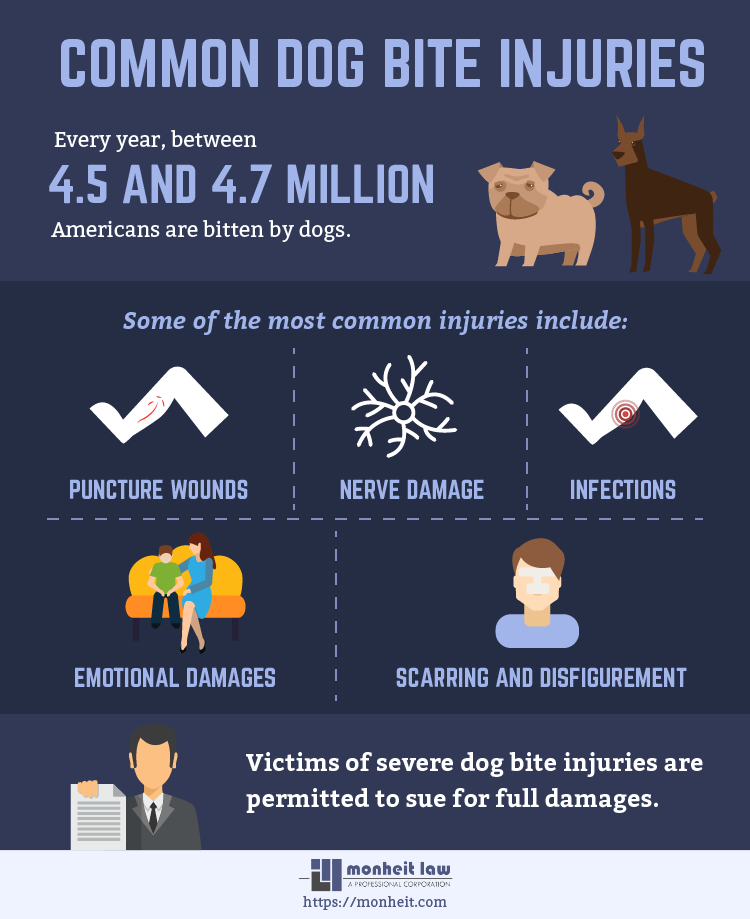 Recovering From An Attack
If you've recently been injured by a dog bite or attack, there are avenues for relief. There are a few factors which determine the extent of damages you may recover:
The dog's history - If the dog has been labeled a "dangerous dog" because of a violent history, you are eligible to seek full compensation for your recovery.
The extent of your injuries - If you've suffered severe injuries (e.g. broken bones or injuries requiring surgery), you're permitted to sue for full damages regardless of the dog's history.
The owner's negligence - If you can prove that the accident was caused by the dog owner's negligence, then neither of the above criteria are necessary in order to seek full damages.
All dog bite victims are permitted to seek compensation for medical bills from the owner. Those who are eligible for full damages may receive compensation for:
Pain and suffering
Loss of quality of life
Lost and future wages
If you've recently been bitten and are wondering about the validity of your case, it's best to consult with a personal injury attorney. He or she will analyze the specifics of your incident and help you to determine the best way to recover the compensation you need.
Additional Links: